Asa Takii
(b. April 28, 1884 – d. July 31, 1998) was a Japanese supercentenarian and a survivor of the atomic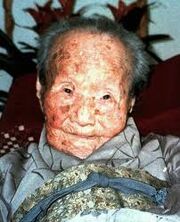 bombings of Hiroshima and Nagasaki. She became Japan's oldest person in 1998, following the death of Suekiku Miyanaga. Takii died, aged 114 years 94 days, of heart failure. Following her death, Tase Matsunaga became the oldest person in Japan.
Takii, a lifelong resident of Hiroshima, was 61 when the bombings hit. They killed her husband and all her relatives. Takii said that she was washing clothes when she saw a huge flash.
Ad blocker interference detected!
Wikia is a free-to-use site that makes money from advertising. We have a modified experience for viewers using ad blockers

Wikia is not accessible if you've made further modifications. Remove the custom ad blocker rule(s) and the page will load as expected.