THIS PAGE IS CURRENTLY UNDER CONSTRUCTION.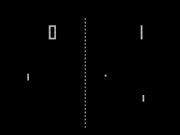 Atari Pong or Pong is a first-generation arcade game released by Atari in 1972. It was released on the Atari 2600 and the Atari 7800.
Main of the game
The main of the game is controlling a little white line against the console who is also controlling a white line and they must hit the ball through the player's goal and score the highest score.
Trivia
People who are 40 years old or older might have played this game when they were children.
The game was discontinued in 1978 but is widely known as the best Atari game ever.
Ad blocker interference detected!
Wikia is a free-to-use site that makes money from advertising. We have a modified experience for viewers using ad blockers

Wikia is not accessible if you've made further modifications. Remove the custom ad blocker rule(s) and the page will load as expected.