Bao Xi Shun (b. 1951-) (also known as Bao Xishun,Xi Shun,or The Mast) lives in Mongolia. He is 7 feet 9 inches tall. He married in 2007 and has a son. He had his title took off him by Leonid Stadnyk but got the title back when Stadnyk refused to be measured, but Sultan Kosen won the title again.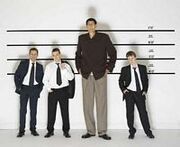 He is the tallest living man in Mongolia.
THIS PAGE IS CURRENTLY UNDER CONSTRUCTION.
Gallery
Ad blocker interference detected!
Wikia is a free-to-use site that makes money from advertising. We have a modified experience for viewers using ad blockers

Wikia is not accessible if you've made further modifications. Remove the custom ad blocker rule(s) and the page will load as expected.