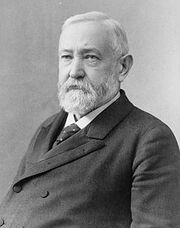 Benjamin Harrison (b. August 20, 1833 – d. March 13, 1901) was the 23rd President of the United States. He served from 1889 until 1893. During his term, six new states were added to the Union: North Dakota, South Dakota, Montana, Washington, Idaho, and Wyoming, more than any other President. He was the grandson of William Henry Harrison, the 9th President.
Ad blocker interference detected!
Wikia is a free-to-use site that makes money from advertising. We have a modified experience for viewers using ad blockers

Wikia is not accessible if you've made further modifications. Remove the custom ad blocker rule(s) and the page will load as expected.