Brenden Adams
 (b. September 20, 1995-) is the tallest living teenager in the world. He is 7'4".  He attends Morgan Middle School in Ellensburg, Washington. Brenden's rapid growth was successfully stopped in August 2008. He was born in Ellensburg, Washington. Once he turns 18, he will become one of the tallest living adults in the world.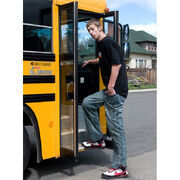 Ad blocker interference detected!
Wikia is a free-to-use site that makes money from advertising. We have a modified experience for viewers using ad blockers

Wikia is not accessible if you've made further modifications. Remove the custom ad blocker rule(s) and the page will load as expected.