Catherine Helen Hagel (b. November 28, 1894 – d. December 6, 2008) was an American supercentenarian.
She was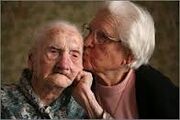 born in Dayton, Minnesota, and was, at the time of her death, the third-oldest validated person in the world. Hagel was the second oldest validated person in the United States.
Hagel was a farmer, and did not stop farming until she was 100, when she moved to the North Ridge Care Center in New Hope, Minnesota.
Ad blocker interference detected!
Wikia is a free-to-use site that makes money from advertising. We have a modified experience for viewers using ad blockers

Wikia is not accessible if you've made further modifications. Remove the custom ad blocker rule(s) and the page will load as expected.