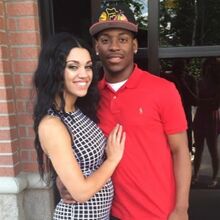 D&B Nation is a YouTube channel primarily consisting of Damien Prince and Bianca Raines. Their channel consists of them vlogging, doing challenges, reacting to viral videos, and pranking each other. As of March 15, 2017, D&B Nation has over 2 Million Subscribers and 400 Million total videos views.
D&B Nation's Subscriber Milestones in Millions
D&B Nation hit 1 Million Subscribers on October 29, 2016.
D&B Nation hit 2 Million Subscribers on March 15, 2017.
Before YouTube
Damien Prince met Bianca Raines in the middle of the summer of 2012. At the time they were working together at a Little Ceasars Pizza restaurant.
Damien admitted in a video titled "End of D&B Nation" that he had dated over 20 girls before her because he had felt something missing in his love life and after he had met her he had felt as if his wants and needs were met.
They started dating a few months later however experienced financial problems.They were broke at one point and the couple had to move out of their apartment and move into a motel with their first child,DJ Prince(born January 7, 2015).Raines also had to ask her mother to provide food for them as starving became a result of their lack of income.Additionally, the couple's only car which was owned by Damien was tooled away and they had to find less convenient ways to get to their pizza job and eventually other jobs for more financial support.
Damien eventually decided to start a YouTube channel so they can get more money as well as to entertain audiences around the world and got Bianca in the idea. The D&B Nation channel was officially born on March 11, 2016.
YouTube Career
D&B Nation started out as a channel where Damien and Bianca would react to entertaining videos on the internet either suggested by their fanbase or found out by themselves.They would quickly become one of Youtube's fastest growing channels getting between twenty to twenty five thousand Youtube subscriptions a month.
D&B Nation would start to expand their channel's content by doing vlogs,doing live streams on occasions,challenging and pranking each other,as well as feature their friends and family on their videos.
Due to the growth of their channel rising rapidly,D&B Nation would hire ---- as their manager to help the channel produce good content as well as staying relevant on Youtube's platform.
In November of 2016,a week after their channel had reached 1 million subscribers,an intruder would embark in their home, robbing them ,as well as hacking in their channel.However, D&B Nation would eventually get their channel and their belongings back.
A few weeks later,Damien would propose to Bianca at their baby shower for their soon born second child,Kyrie Prince.Kyrie was then born on December 11, 2016.
In early 2017,Damien and Bianca's relationship would see a detour.Bianca had uploaded a video to the channel on why she was with Damien.In the video she stated that she was in a relationship with Damien because of his sex drive.She would also go on to say that she loved his personality and how he motivated him and her to accomplish their goals but Damien's sex drive was said to be a very big factor.
Damien had decided to prank her by having him be upset of Bianca being with him because of his sexual prowess.The couple would argue over the fact that Bianca did not just like Damien because of their sex life.Bianca also insisted that she would make Damien use sex toys on her if he had ever been paralyzed from the waist down.
Around 20 minutes into the video,Damien finally admitted it was a prank.However,Bianca then told Damien she didn't want to be in a relationship with him anymore.She expressed that Damien always put doing Youtube before her needs and that constant camera time was ruining their relationship.Bianca then took her engagement ring off and walked out of the house although Damien tried attempting to get her to stay.The video then bruptly ended.
Damien the next day announced that Bianca left and took the kids with her without any response since.Shortly afterwards he talked about the history of their relationship and how he felt about her then leading up to her leaving.Damien emotional,cried over the possibility of their family falling apart.
A few days later,Bianca would upload a video of her and her children in a motel room.She stated that she wanted to be with Damien but she needed some time away from the camera and him as she believed him and constant camera time was destroying their relationship and her mental state.
In the video she says that she was going to visit Damien to talk about the situation and find a solution.The vlog also includes her putting on make up and dressing her and the kids up for her meeting with Damien.
In a separate video,Damien announces that Bianca finally texted her on her birthday about what Damien will give her for it.Damien excited, got dressed and left his house.He then meet Bianca at a restaurant where she said she was in a text.Firstly,Bianca seemed annoyed by the fact that Damien was still vlogging so he shut the camera.When finished with their food,Damien then turned on the camera again and asked her if everything was okay and if she can move back in.She then stormed out the restaurant saying that she still needed time to think and that she didn't want to jump in the relationship so soon.She left Damien behind in the restaurant.
A little while after,Bianca came to visit the channel's manager,---,to get advice on how to go through this break.Prior,she told Damien via phone to meet her up at --- house.When he came,Bianca started to talk about how she wanted herself to be just as passionate of Youtubing but to not vlog so much.She also accused Damien of putting Youtube before her so he can get more famous which he denied.He said he was so consistent because he wanted to live a good life with her filled with wealth and fame as well as to provide an opportunity for their kids to be successful by taking an initiative to make sure they are secure first with Youtube.

Bianca also goes on to say that she wants to spend quality time with Damien and that she is willing to be in a relationship and pursue Youtube again if Damien shows she loves her for her.Damien agreed and then the video ended.
A video later,Damien and Bianca were vlogging in a hospital.Damien told their fanbase that he and Bianca found out that Bianca was diagnosed of Post Pardum depression.Post pardum depression is a type of depression amd anxiety experienced by women who had just recently had a childbirth.
Ad blocker interference detected!
Wikia is a free-to-use site that makes money from advertising. We have a modified experience for viewers using ad blockers

Wikia is not accessible if you've made further modifications. Remove the custom ad blocker rule(s) and the page will load as expected.