Ettie Mae Greene
(September 8, 1877 – February 26, 1992) was an American supercentenarian who was recognized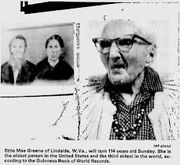 by Guinness World Records as the 'oldest living American' in 1991 (later, the SSA study would replace her with Lucy Hannah, who was apparently older). She was born in Wayside, West Virginia, and worked as a seamstress and a farmer. In an interview in 1991, she claimed that her longevity was due to her "good, clean living" and a milkshake she drank every day.
Ad blocker interference detected!
Wikia is a free-to-use site that makes money from advertising. We have a modified experience for viewers using ad blockers

Wikia is not accessible if you've made further modifications. Remove the custom ad blocker rule(s) and the page will load as expected.