THIS PAGE IS CURRENTLY UNDER CONSTRUCTION.
Ezra J. Carter
 (son of Robert C. Carter and Mollie Arvelle Bays) was born October 21, 1898 or 1900 in Maces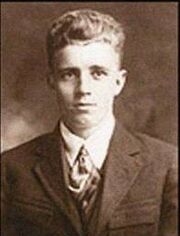 Spring, Scott County, Virginia, and died January 1975 or 1980 in Madison, Davidson, Tennessee. He married Maybelle Addington on March 13, 1926, daughter of Hugh Jackson Addington and Margaret Kilgore.
Ad blocker interference detected!
Wikia is a free-to-use site that makes money from advertising. We have a modified experience for viewers using ad blockers

Wikia is not accessible if you've made further modifications. Remove the custom ad blocker rule(s) and the page will load as expected.