Florence Knapp
(b. October 10, 1873 – d. January 11, 1988) was an American supercentenarian. For the last 2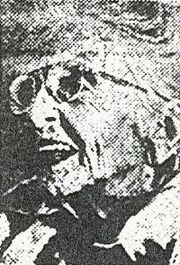 weeks of her life she was the oldest validated living person in the world. Born in 
Lansdale, Pennsylvania
, she lived in nearby Montgomery Square much of her life and came from a large and long-lived family, eight of her siblings dying in their 80s and 90s and one sister reaching 
age 108
.
By October 1987, when she was honored by the Pennsylvania legislature, she was recognized by Guinness as the oldest person in the United States, and the death of Anna Eliza Williams on December 27, 1987, meant that Knapp became the oldest verified recognized living person. Her death just 15 days after meant that she never appeared in a Guinness Book as the oldest living person.
Ad blocker interference detected!
Wikia is a free-to-use site that makes money from advertising. We have a modified experience for viewers using ad blockers

Wikia is not accessible if you've made further modifications. Remove the custom ad blocker rule(s) and the page will load as expected.