Francis John Lang
, aka Michael Walker (b. 1934) of Gibsonton, FL (born in Clinton, IA); 6 ft 2 in, believed to have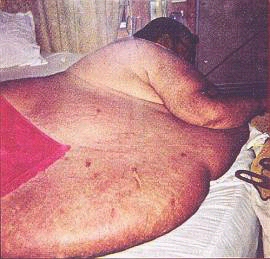 reached a maximum weight of 1187 lbs. Lang weighed only 150 lbs as a soldier in Korea. He blamed his masssive weight gain on prescription drug abuse, claiming that his narcotic of choice had the side effect of giving him an uncontrollable appetite. Though unable to walk (a handicap that kept more than one fat lady out of the side show), Lang found a unique way of capitalizing on his situation: he had a mobile home built with observation windows, and traveled the country putting himself on display at carnivals and fairs. Lying nearly nude on an oversize circular bed, he preached to the curious about the evils of drugs, using his own body as the moral lesson. His peak weight, claimed for him by Christian Farms of Killeen, TX, in the summer of 1971, was unverified, but Guiness Superlatives found photographic evidence to be reasonably conclusive. In early 1972 Lang was hospitalized in Houston for a suspected heart attack, at which time he was estimated to weigh between 900 and 1000 lbs. His symptoms proved to be caused by an inflamed gallbladder, probably aggravated by his weight loss, and the examining physician declared his heart to be "unusually normal." By 1980, Lang had reportedly reduced to 369 lbs.
Ad blocker interference detected!
Wikia is a free-to-use site that makes money from advertising. We have a modified experience for viewers using ad blockers

Wikia is not accessible if you've made further modifications. Remove the custom ad blocker rule(s) and the page will load as expected.