THIS PAGE IS CURRENTLY UNDER CONSTRUCTION.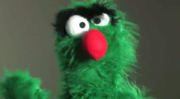 The Groggle Monster, or simply known as Groggle, is the secondary, but semi, antagonist of the Skippy Shortsfranchise. He is a violent-tempered green monster with a Muppet-like appearance. Groggle hosts his own question / answer show Ask Groggle Monster.
In "Human Skippy!", it was revealed Groggle has a mother.
Ad blocker interference detected!
Wikia is a free-to-use site that makes money from advertising. We have a modified experience for viewers using ad blockers

Wikia is not accessible if you've made further modifications. Remove the custom ad blocker rule(s) and the page will load as expected.