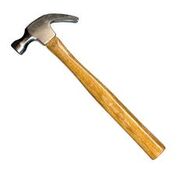 A
hammer
is a tool meant to deliver an impact to an object. The most common uses for hammers are to drive nails, fit parts, forge metal and break apart objects. Hammers are often designed for a specific purpose, and vary in their shape and structure.
The hammer is a basic tool of many professions. The usual features are a handle and a head, with most of the weight in the head. The basic design is hand-operated, but there are also many mechanically operated models, such as steam hammers, for heavier uses.
Ad blocker interference detected!
Wikia is a free-to-use site that makes money from advertising. We have a modified experience for viewers using ad blockers

Wikia is not accessible if you've made further modifications. Remove the custom ad blocker rule(s) and the page will load as expected.