I Had an Accident is a SpongeBob SquarePants episode from season three. In this episode, SpongeBob breaks his butt while sand-sledding.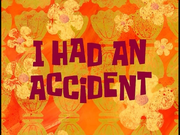 Characters
Plot
While sandboarding, SpongeBob crashes into the ground butt-first, and is taken to the hospital. The doctorfish says that it took 20 hours to glue it back together, and that if he has another similar injury, he may end up with an "iron butt", a huge machine on wheels connected to where the butt used to be. SpongeBob goes on "around-the-clock butt patrol", and after seeing many potentially dangerous things outside decides to stay home forever with his three friends, "Chip", "Penny", and "Used Napkin". Sandy and Patrick try to persuade to get SpongeBob to come outside, which are to no avail until they attempt to stage a fake gorilla attack. SpongeBob is unconvinced by this, until an actual (live-action) gorilla appears and attacks them. SpongeBob leaves the safety of his home to save his friends, but is easily defeated by the gorilla. The episode ends with a massive non-sequitur: When SpongeBob asks how a gorilla can exist underwater, the gorilla says "George, they're on to us!" and runs away on George The Zebra. Then, a family who was watching the episode get confused and turn it off.
Music
Original music
​APM music
Trivia
Goofs
Ad blocker interference detected!
Wikia is a free-to-use site that makes money from advertising. We have a modified experience for viewers using ad blockers

Wikia is not accessible if you've made further modifications. Remove the custom ad blocker rule(s) and the page will load as expected.