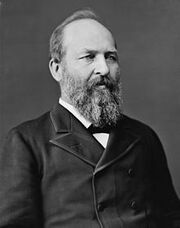 James Abram Garfield (b. November 19, 1831-d. September 19, 1881) was the 20th President of the United States. He served for only a few months in 1881 before he was shot by Charles Guiteau, a disgruntled man angry at Garfield for refusing him a civil service job. His vice-president, Chester A. Arthur, took office after him.
Ad blocker interference detected!
Wikia is a free-to-use site that makes money from advertising. We have a modified experience for viewers using ad blockers

Wikia is not accessible if you've made further modifications. Remove the custom ad blocker rule(s) and the page will load as expected.