John William "Bud" Rogan (c. 1868–1905) is one of 17 known people in medical history to reach a height of 8 feet (2.44 m) or more.
Life
He was born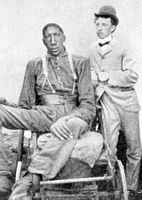 in 
Sumner County, Tennessee
, between 1865 and 1868. Rogan began to grow very rapidly at the age of 13, leading to 
ankylosis
. Having been able to walk only on crutches, by 1882, he could not stand or walk. By 1899, he had grown to a height of 8 ft 6 in (2.59 m) and often appeared in newspapers, referred to as the "Negro giant". He got around on a goat cart he had made for himself and was always the center of attention, often noted for his extremely deep voice and playful attitude. Although he could not work, he made a living by selling portraits and postcards of himself at the train station.
Shortly before developing ankylosis, Rogan was 8 ft 6 in tall and weighed 300 lbs. The disease hindered and eventually ended his ability to walk, eventually prompting the use of the goat cart.
His hands measured 11 inches (28 cm) in length and his feet measured 13 inches (33 cm) in length. He continued to grow until his death
Ad blocker interference detected!
Wikia is a free-to-use site that makes money from advertising. We have a modified experience for viewers using ad blockers

Wikia is not accessible if you've made further modifications. Remove the custom ad blocker rule(s) and the page will load as expected.