Kohachi Shigetaka
(May 10, 1895 – July 3, 2005) was a Japanese supercentenarian and the oldest male in Japan from July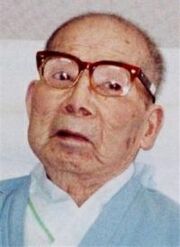 2004 until his death from pneumonia, aged 110 years 54 days old. Shigetaka was Japan's first male supercentenarian since
Yukichi Chuganji
, who died over one and a half years before Shigetaka reached supercentenarian status. Japan's oldest man on record is Jiroemon Kimura (1897–present), who is currently living at age 115 years, 338 days.
Ad blocker interference detected!
Wikia is a free-to-use site that makes money from advertising. We have a modified experience for viewers using ad blockers

Wikia is not accessible if you've made further modifications. Remove the custom ad blocker rule(s) and the page will load as expected.