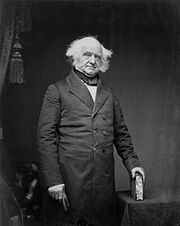 Martin Van Buren (b. December 5, 1782-d. July 24, 1862) was the 8th President of the United States. He served from 1837 until 1841. During his term, a depression severed the U.S. economy and many rich people blamed him for it. He was a people's man, just like Andrew Jackson.
Ad blocker interference detected!
Wikia is a free-to-use site that makes money from advertising. We have a modified experience for viewers using ad blockers

Wikia is not accessible if you've made further modifications. Remove the custom ad blocker rule(s) and the page will load as expected.