THIS PAGE IS CURRENTLY UNDER CONSTRUCTION.
Moses Hardy
 (January 6, 1893 or 1894 – December 7, 2006) was an American supercentenarian who at the age of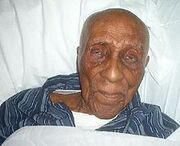 112 or 113 was the last surviving black person of World War I. At the time of his death, he was the oldest United States combat veteran ever, the oldest male ever recorded in Mississippi and had outlived at least three of his eight children.
Ad blocker interference detected!
Wikia is a free-to-use site that makes money from advertising. We have a modified experience for viewers using ad blockers

Wikia is not accessible if you've made further modifications. Remove the custom ad blocker rule(s) and the page will load as expected.