Nijiro Tokuda
(b. June 10, 1895–d. June 12, 2006) was the oldest man in 
Japan
 and, at his death, aged 111 years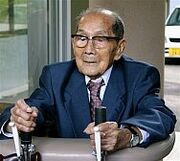 2 days, was the sixth oldest verified living man in the world. He was believed to have become the "doyen" of Japan following the death of 
Kohachi Shigetaka
 almost one year before at age 110. Tokuda lived in the care house 
Sakura no Sono
 in 
Kagoshima
. Although he had been using a walking aid since fracturing his foot about 10 years ago, he continued to be an avid photographer and shot pictures of a local summer festival using a camera he owned for more than 20 years.
Ad blocker interference detected!
Wikia is a free-to-use site that makes money from advertising. We have a modified experience for viewers using ad blockers

Wikia is not accessible if you've made further modifications. Remove the custom ad blocker rule(s) and the page will load as expected.