SPG Global Towers
are twin towers in Suzhou, China. They are 938.3 feet (286 meters) to the spire, making them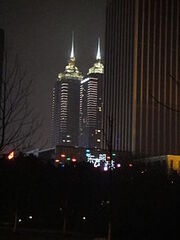 the 90th tallest buildings in the world, with 54 floors. The roof height is 787 feet. Groundbreaking on the towers began in 2007, and they were completed in 2010. Tower A is used mostly for office space, while tower B is residential.
Ad blocker interference detected!
Wikia is a free-to-use site that makes money from advertising. We have a modified experience for viewers using ad blockers

Wikia is not accessible if you've made further modifications. Remove the custom ad blocker rule(s) and the page will load as expected.