Silas Joseph "Si" Simmons
(b. October 14, 1895–October 29, 2006) was an American professional baseball player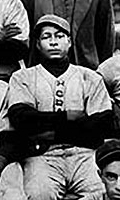 for African-American teams in the pre-Negro League era, and became the longest-lived professional baseball player in history. The previous record was held by
Chet Hoff
, who died at age 107 in 1998. He died at the age of 111 years, 351 days.
Ad blocker interference detected!
Wikia is a free-to-use site that makes money from advertising. We have a modified experience for viewers using ad blockers

Wikia is not accessible if you've made further modifications. Remove the custom ad blocker rule(s) and the page will load as expected.