THIS PAGE IS CURRENTLY UNDER CONSTRUCTION.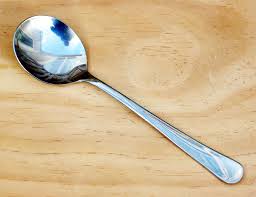 A spoon is an eating utencil designed for the scooping of liquids. It consists of a shallow bowl, oval, or round indiction at the end of a handle. The spoon originated in what became Sardinia, where they where made of clay. Egypt is where one can find the best preserved of early spoons. They where carved from Ivory, and decorated with religious symbols.
Ad blocker interference detected!
Wikia is a free-to-use site that makes money from advertising. We have a modified experience for viewers using ad blockers

Wikia is not accessible if you've made further modifications. Remove the custom ad blocker rule(s) and the page will load as expected.