Thomas Bourgin
 (b. December 23, 1986 –d. January 11, 2013) was a French 
motorcycle
 racer. He was in 68th place in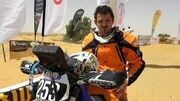 the overall ranking of his first 
Dakar Rally
.
Bourgin was born in Saint Etienne and had been racing since 2009, when he took part in the Morocco Rally, followed by a 4th place in the 2011 Africa Race and a 7th place finish in the Tunisia Rally.
He died on January 11, 2013, at the age of 26, quite short for today.
Ad blocker interference detected!
Wikia is a free-to-use site that makes money from advertising. We have a modified experience for viewers using ad blockers

Wikia is not accessible if you've made further modifications. Remove the custom ad blocker rule(s) and the page will load as expected.