THIS PAGE IS CURRENTLY UNDER CONSTRUCTION.
Wyoming
is a state in the mountain region of the Western United States. Wyoming is the 10th most extensive, but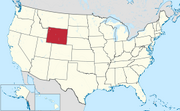 the least populous and the second least densely populated of the 50 United States. The western two thirds of the state is covered mostly with the mountain ranges and rangelands in the foothills of the Eastern Rocky Mountains, while the eastern third of the state is high elevation prairie that is known as the High Plains. Cheyenne is the capital and is also the most populous city of Wyoming with a population of nearly 60,000 people within its city proper.
Most of the state was obtained as part of the Louisiana Purchase of 1803. We obtained a small strip of land in the south from Texas, most of the southwestern portion from Mexico, and the northwestern portion from the Oregon Country. Initially, the area was part of the territories of Utah, Nebraska, Idaho, and Dakota before it became its own territory in 1868. The state did not become admitted to the Union until 1890.
Ad blocker interference detected!
Wikia is a free-to-use site that makes money from advertising. We have a modified experience for viewers using ad blockers

Wikia is not accessible if you've made further modifications. Remove the custom ad blocker rule(s) and the page will load as expected.