Yakup Satar (March 11, 1898 – April 2, 2008) was, at 110, believed to have been the last Turkish veteran of the First World War.
Star was born in Crimea, Satar joined the army of the Ottoman Empire in 1915. On February 23, 1917, he was taken prisoner by the British in the Baghdad campaign's Second Battle of Kut. He was freed after the end of the war, Satar then served in the forces of Mustafa Kemal Atatürk in the Turkish War of Independence, which lasted from 1919 to 1923.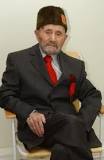 Ad blocker interference detected!
Wikia is a free-to-use site that makes money from advertising. We have a modified experience for viewers using ad blockers

Wikia is not accessible if you've made further modifications. Remove the custom ad blocker rule(s) and the page will load as expected.